As can be seen in the previous post, ("Miki Falls") manga creator Mark Crilley in his video (How to draw Manga backgrounds) shows, how it can be easy drawing the illusion of depth, by defining the fore ground objects with greater detail and color, than the background objects.
This technique is widely used by most artists to convey the impression of distance but is most often combined, with objects drawn in perspective, which is also covered in earlier posts. This is most often conveyed by putting objects into pictures, as triggers to convey this illusion and help lead the viewers eye, off into the distance along a line of ever decreasing reference points. Photographers use these very same techniques when taking landscape photographs by again placing larger or close up objects in the foreground to create the illusion of depth.
Below is a classic example of this, the photo image shows many parallel lines going off into the distance, with lines between the paving slabs on the ground, the lampposts decreasing in size as they go further into the distance. Then there is the railing along the edge of the water and also the bridges, with first one filling more than half of the picture, with the second only filling about one sixth and the third, being only about one tenth. All this information draws the eye along the lines towards the point, where they converge creating the illusion of distance because remember that this is really, only a flat 2 dimensional image.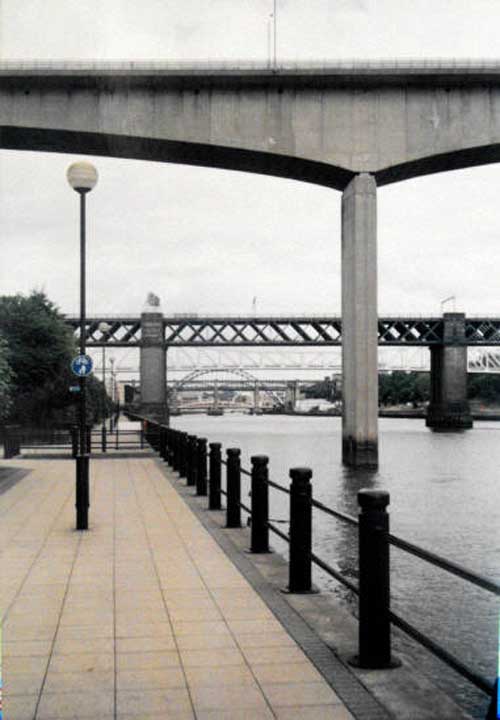 Also you should notice how the objects and bridges in the distance are only vague, as they are far less defined than the foreground railing posts, paving slabs and lampposts.
Photographs are a good example of how, these same easy drawing techniques, when applied to constructing backgrounds, create a sense of distance, this can be used to trick the eye into seeing the illusion of depth, without it really being there.
The image below shows how pictures can be changed by moving the order of objects, you will see what I mean by looking at the picture.