Drawing lines, is not quite as simple, as you might think because the weight and thickness, of the lines we make, have an impact, on the effectiveness of our drawings, to add to this, is the hardness of the line, which I will explain later, is also of importance.
The meaning to thickness of line, should in essence be obvious, it means what it says, how wide or narrow, the line actually is, has an impact, on how our brain, relates to that line in context, of what is surrounding it and the tonal value of the line, also has an impact, on what is seen, when I say tonal value, I am talking about how light or dark, the line is in tone.
If you draw a circle, with a wider, darker line along the bottom area, it will look like it is, the bottom of a sphere and will start to look like, a ball shape, rather than, simply just, looking like a circle. This also gives, the bottom half of the circle or sphere more weight because the wider line, is more substantial, especially, if it is also darker in tone, it will attract the eye, giving more emphasis and importance, to it, this also creates the illusion, of light and shadow, that is often used, to emphasize, the under areas of shapes, we draw, suggesting, the shape, is three dimensional.
Please take a look, at the drawings, of the two circles, 1 & 2 below, to see an example of what I am trying to explain, also take a look at, 3 & 4, these lines and circles, have been made with a 5 mm, a half cm, flat pencil, notice how the line varies in width, giving it the look of a twisted ribbon. Number 5, shows, how lines can go, from a hard, definite edge, to a more subtle, less definite edge, that can be used to great effect, in your line drawings.  These different types of line, can be used to create light and shadow, so as to suggest the illusion of form and shape but still maintaining, the quality of being a line, using this, within your line drawing, can start to bring, your line drawings, to life.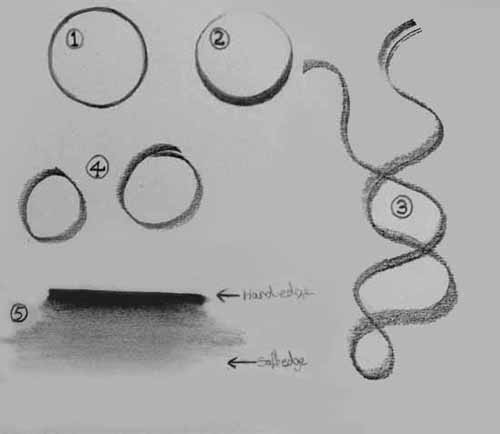 The dragon drawing below, was created with pen and ink, it puts very little emphasis on line quality, it is a line that is consistent, in thickness, giving little or no quality, other than just being a line but even so, it does create the image of a dragon, through the use of drawing lines, with nothing more.