The two point perspective or linear perspective, as it can also be called, is a construction drawing technique that is made up of vanishing points, which are the points placed along an eye line or horizon line, as it is some times called, these are the elements that make up perspective drawings, like the ones below. Although the first drawing is quite nice, it is just made up of simple straight lines and curves, using a straight edge or line rule to place the guide lines from the vanishing points, it is much easier to draw perspective, when using these techniques.
As can be seen in the drawings below, the horizon line or eye line, is just a horizontal line drawn across the page, to represent where the horizon would be or the place your eyes would be level with, when you are looking at some thing, by drawing all subjects in relation to this line, it creates the effect of there being distance in the image and between the object in it.
In the drawing below you can see the horizon line, vanishing points, construction box and perspective lines, that make up the 2 point perspective much easier and should assist you, in understanding how perspective drawing works. The vanishing points create the points where an object would taper off into the distance, to create the impression of something being three dimensional and this technique is sometimes called, true perspective as well as linear and two point perspective.
The horizon line and vanishing points are used to construct boxes, to use as guides and enable you to draw an object that looks like, objects in life that taper off into the distance, the best way to see this is by looking down a long street, where you can see the building close by above your head but the further into the distance, they go the smaller the further away they become and the road also gets smaller, another example can be seen on railway lines, when you look at them, they seem to meet in the far off distance.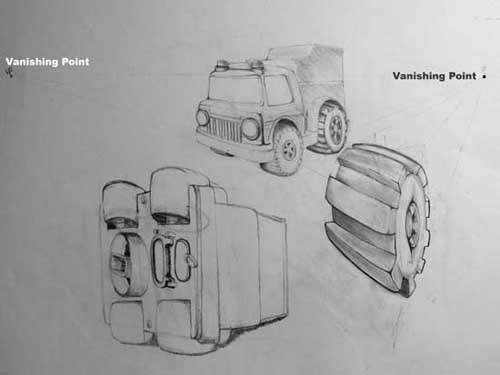 In the image below, I have drawn a wheel type shape in a box, to show how the same effect can be created with circular objects like wheels but I have also used, a very low horizon line, to give the impression of looking up at something, making it seem very big and above your head, even though it is just a simple drawing on piece of paper. There are lots of ideas you can create when you draw perspective and these types of drawings, always look dynamic, giving a great deal of impact to any drawing, so it is well worth experimenting with this 2 point perspective technique.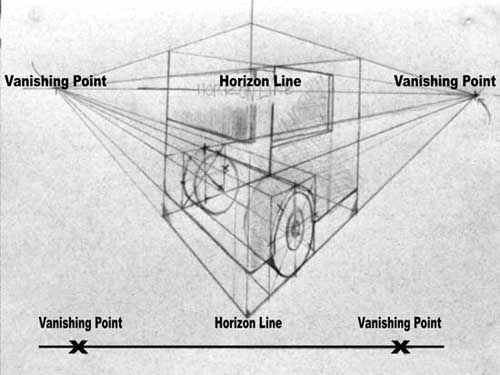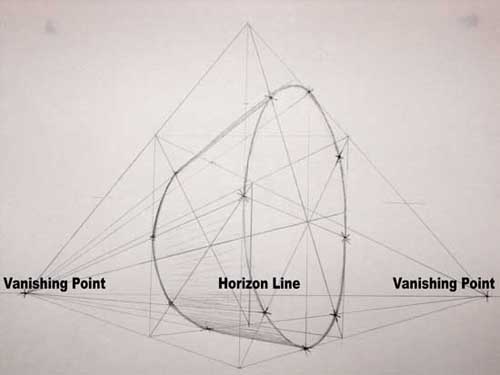 The horizon line has two points from which to draw perspective, in the above example.
A big perspective with a low horizon line, giving the impression of looking up at something, can be very impressive, expressing an image of power and dominance.
You can do this with a single, one point perspective or two point perspective, as well but the single point is a little limited because it often only works well, when looking at something directly from the front.