Easy cartoons for most people are just fun to draw, remember when you was a kid. You could draw silly faces, childish faces, childish drawings of faces. Well cartoons do not have boundaries like other types of drawings do and if you are still a kid fantastic, joy all round let's begin with easy cartoons to draw.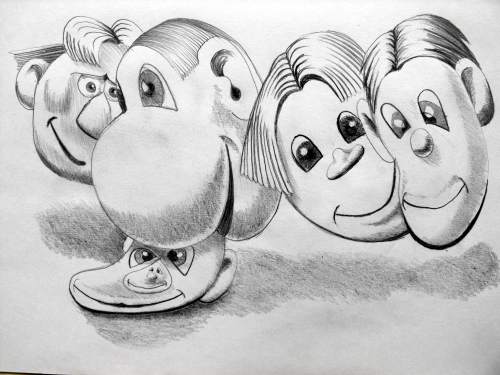 The wonderful world of scribble heads, easy cartoons.
I took a clean sheet of paper and made a scribble on it with my eyes closed, you must have your eyes closed, no cheating but you can make as many scribbles as you like.
I used my second scribble and made them both big scribbles on A3 drawing paper, the trick is at first to not make too much of a scribble and try to space it out, space is cool.
Now you must open your eyes and take a look at your drawing because you want to see if you can see any faces, sometimes you can if you look round the scribble for a few minutes and remember these are kids drawings, cartoons, not grand master portraits, they are better than that because they are easy and fun to do.
Take a look at my first drafts.
These are the shapes I am going to use for my scribble heads.
The fist one is the master scribble and the second is my outlines for head shapes, the third is one with the scribbles removed.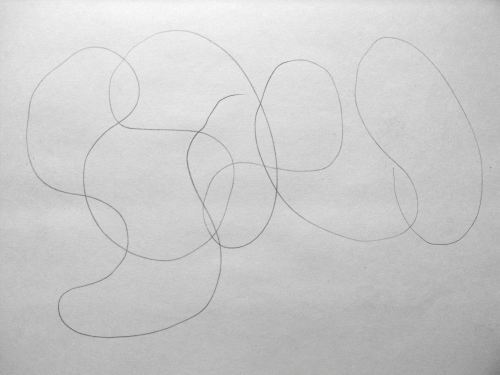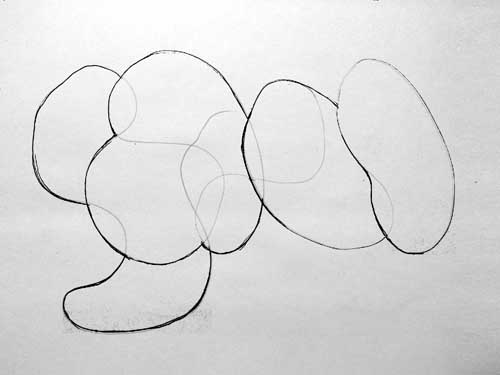 Then I removed the scribble lines and had a little think about what I should add, and where it should be added, features like ears, nose, mouth, hair, eye brows, eyes, lips, teeth. I thought about it for a little while then drew in the shapes that would give my scribble heads faces and features.
Remember these are cartoons, like the drawings that children do, kids drawings because of this there is a great deal of scope to work with and improve as you go along.
Just draw these ideas, shapes as best you can and remember these are scribble heads, made purely from your imagination using a free line, they could never ever be wrong because they don't exist until you have drawn them.
The two pictures below are where I removed the scribble lines and drew in the features.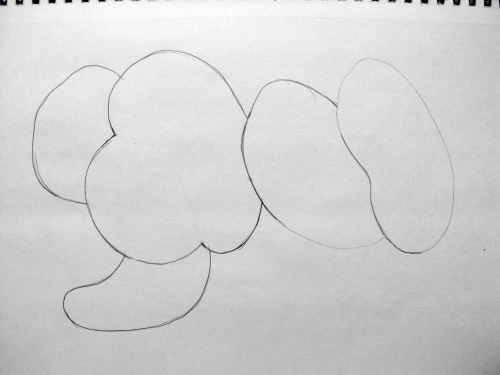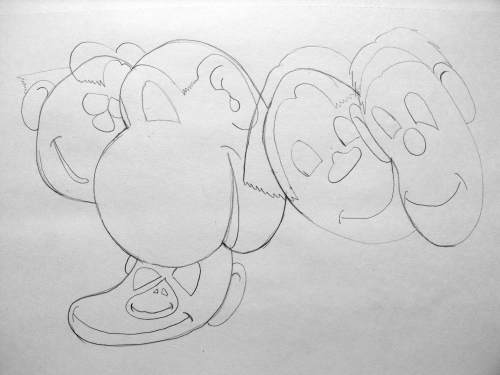 Now the lines that are not needed have been removed and the scribble heads are really starting to take shape, so now all that is left to do is add some more detail, and make them seem more three dimensional (3D).
Notice the heavy dark lines around the bottom of the heads in the image below.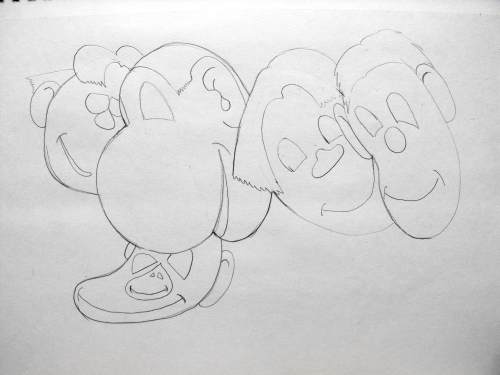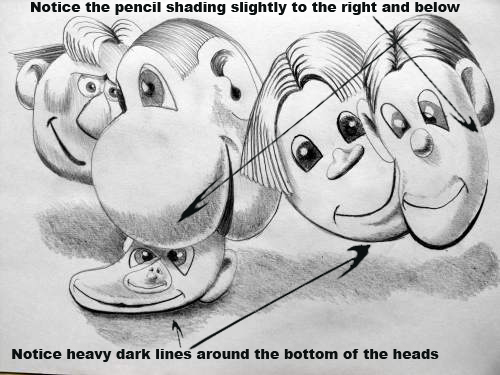 Notice how the hair is just made up of lines all flowing in one direction giving the impression of hair and that some areas are darker than others, like the black dots in the eyes and the outer part of the eye being lighter even with a white dot giving the impression of light reflecting off the eye. These are elements that make your drawings look 3D and are so easy to do if you think about it.
Do you know why the composition is poor in this drawing besides the fact that it was drawn as a free line drawing, it can be constructed better as a composition?
View Gareth Pritchard's profile on G+